There was a steep decline in 2020 which was expected due to the economic slowdown triggered by the pandemic. Business Wire report 20-30 the report anticipates the market to recover at a CAGR of 11% by 2023 which gives hope to operators in best coworking spaces in Bangalore. As businesses starting off coming back to offices now are looking for flexible workspaces and more. Now let's take stock of some major coworking trends for 2021-22.
Rising demand for flexible office spaces
With 2020 pandemic majority of companies are still working-from-home (WFH), but WFH had its own different problems that interfered with productivity. The problems ranged from sloppy internet connection, distractions and interruptions by family members, children and the lack of proper ergonomic equipment to work. As a result, companies and employees embraced flexible coworking spaces as an alternate solution.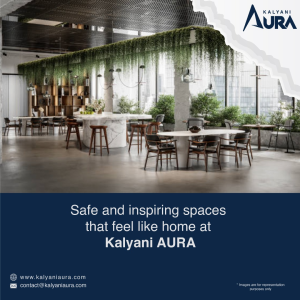 As companies will continue to look at hybrid working model with WFH and office hybrid model, there is rise in flexible office spaces is set to spike. Whether a company with 30+ employees need to scale up to accommodate 50+ or to downsize from a workforce of 50+ to 20+, flexible office spaces that seamlessly modify to meet such business demands would be the preferred choice. Such flexible office spaces will not only give users the freedom and flexibility to work at their own pace and convenience but even save companies a lot through their quickly scalable infrastructure
Rise in the popularity of wellness-oriented, amenity-rich coworking spaces
A safe work environment is at top of everyone's and company's minds these days. To cater these demands, flexible office space providers prioritise wellness offerings, amenities rich office spaces. Some of the top brands like Kalyani Aura have already aligned their offerings with amenities rich office spaces to support work-life balance with an emphasis on wellness while others are slowly joining the ranks.sza
Thus, 2021 is witnessing the rise of health-first, wellness-oriented office space like Kalyani Aura offers yoga rooms, in-house gyms, consultation with health experts, availability of healthy snacks, and organise activities and events.