Located in the IT Hub of Bangalore, Kalyani Aura is a beautiful, bright and lively Managed work space in Bangalore.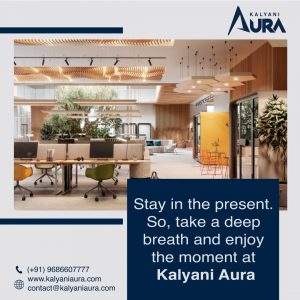 THE SPACE
The interior design is a mix of metal, light colored walls, wood and a lot of greenary which gives the space an overall warm feeling. The working area is divided between an open space and a series of closed glass cabins. And yet again, everything is very spacious.
FLEXIBILITY
Speaking of well-being, Kalyani Aura's flexible office spaces for startup contributes to greater comfort and happiness of the clients. Such flexibility attracts a diverse crowd of professionals from varied industries.
COMMUNITY
The community at Kalyani Aura is a mix of varied industries from startups to midsized companies working in very different fields. Collaboration amongst them shows how strong their community is. Aura organizes many community events which helps the companies to find their way to network: through running groups, yoga classes etc.. 
The great thing about Kalyani Aura is that it offers a lot of Space, flexibility and community